American Classic Carbon 40 Clincher Wheelset (shimano)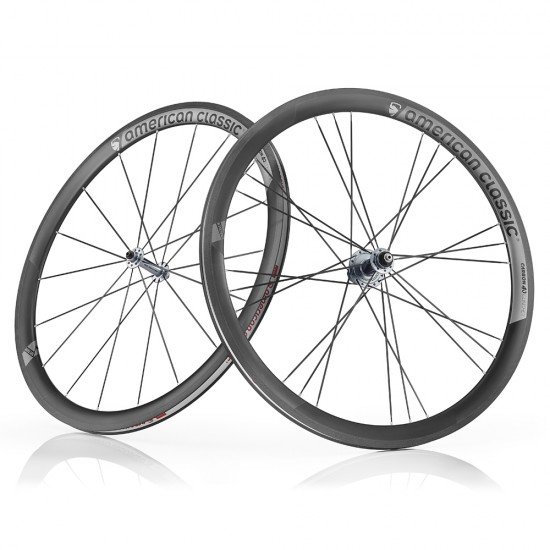 American Classic Carbon 40 Clincher Wheelset (shimano)
What is Unique About Series 3 Carbon?
Carbon fiber is composed of extremely thin, bonded fiber made of carbon atoms. Thousands of carbon fibers are bundled together into cloth-like sheets. The sheets are combined with plastic resin. The sheets are placed into a mold with the fibers oriented in specific directions to create the desired characteristics of strength, stiffness or flexibility for the completed rim. Carbon fiber is used in wheels because of the high strength-to-weight ratio, low weight and the ability to mold the sheets into aerodynamic shapes. The subject of intense study in cycling, aerodynamics is the air flow over and around your wheels, bike and body as you ride. The goal of aerodynamics is to reduce the wind resistance called drag on your equipment, so the rider slices through the air and goes faster. At slow speeds, there is smooth air flow called laminar flow. As speed increases, the laminar flow turns to turbulent flow. There is a "sweet spot," the point of reduced drag, when the air begins to tumble over and across the wheel surfaces in turbulent flow. The key to top carbon fiber wheel design is to produce rim shapes that optimize, capture and maintain the aerodynamic sweet spot for each rim depth.
Bill Shook started the engineering process on our carbon fiber rims from the inside, dictating the direction and lay up of the fibers to form stronger internal spoke beds for structural integrity and stiffness. He then moved to the outside of each wheel, designing unique features for aerodynamic performance to achieve the "sweet spot". The Carbon 40 and Carbon 46 are designed with your goals in mind to help you achieve that "sweet spot" on your next ride!
American Classic Carbon Clincher 40 Wheelset
The American Classic Carbon Clincher 40 is an amazing wheelset, Relatively lighweight, very strong and very reliable, overall a great performer.
They have Aero capabilities with the benefit of not being too bad in cross winds.
All the internals are easy top service and spare parts are simple to get hold of.
Features :
Uses : Road | Triathlon
Rims : Carbon 40mm Series 3 All Carbon Clincher Rims 700c
Spokes : AC Bladed Spokes Black | AC Aluminum Spoke Nipples Silver | 18h Radial Front 24h 3-Cross Drive | Radial Non-Drive Rear
Weight : Front 726g, Rear 854g, Pair 1580g